---
Arts in City Hall
February 2020 Featured Artist
Steve Cagle
Monday, February 3, 2020 – February 29, 2020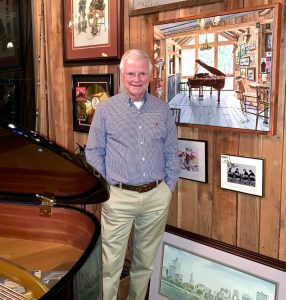 Steve Cagle is the featured showcase artist for the month of February 2020 at City Hall.
Born in Savannah, Tennessee and a lifetime resident of Hardin County, he currently lives in the Cerro Gordo community. Steve is now retired after practicing pharmacy for over 45 years. This allows him more time for painting, music, and golf. He has been painting for less than two years. Steve says he is self-taught, with no formal art lessons. His favorite medium is acrylic on canvas, as it blends well and dries quickly. He is influenced and encouraged by his mother, Ollie Whitlow Cagle, who is also a painter, but specializes in intricate needlepoint and knitting and his sister, Jocelyn Fisher, who makes one-of-a-kind jewelry by hand. Plus, Steve wants to thank the girls at "The Nest" here in Savannah for their support and for believing in him.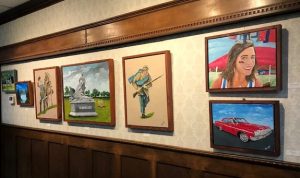 A couple of years ago, local artist, Molly Gilchrist, invited Blair Agar and Steve to provide music for her art presentation and he admired her work wishing he could do half as well. He began watching instructional videos (yes Bob Ross is great) and learning all he could to get started. But it seemed each artist/instructor gave totally different advice for technique, but he feels that he learns something new with each painting he finishes.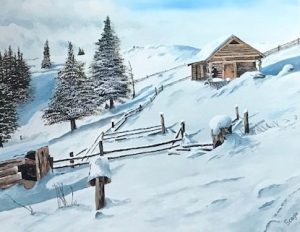 One of his favorites is a piece of work that is hanging at The Outpost in Pickwick. It is of the baby grand piano that they also occasionally allow him to play. If you look closely at the painting you see there is a small painting in the painting positioned where the actual painting is hung in the restaurant. Steve prefers subjects with a lot of detail, black and white or color, and enjoy doing paintings that have a meaning to his client, such as their pet, first car, sports star, home, church, etc. He encourages everyone to give acrylic painting a try, you might surprise yourself.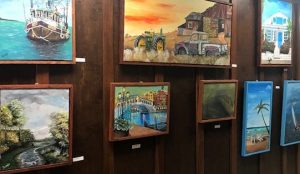 ---
---