---
Arts in City Hall
July Featured Artist
Becky Carter
Monday, July 1, 2019 – August 1, 2019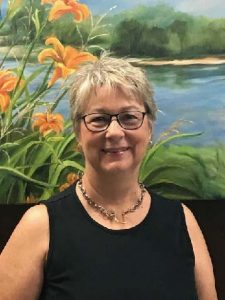 Becky Carter is the featured showcase artist for the month of July 2019 at City Hall.
Rebecca Bass Carter (Becky) grew up an only child on a farm in Wilson County, Tennessee. Making things was just natural to entertain her self and it kept her out of her mother's hair while she was busy. Her imagination, the outdoors and her animals were her world. Becky's first art teacher was Lunette Gore, V.P. Al Gore's aunt. "She came to my school once a week and you paid six dollars for a hour art lesson. As I got a little older I would travel to Cumberland College with two little old ladies for oil painting classes with Ms. Gore."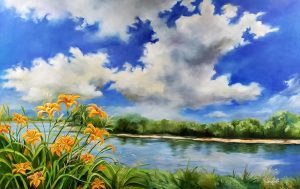 Becky studied Interior design, graphic design at Memphis College of Art, Middle TN State University and UT Martin. In addition to majoring in art in college, she has studied with, Daniel Green, New York portrait artist, Joseph Sulkowski, Dreama Toll Perry, and watercolors with Fred Rawlings and Doff Smith. After marriage and living in Memphis, her husband had the bright idea to move to Saltillo and farm. She trained horses, helped Randy with raising hogs and two fine sons. During this time she also did commissioned equine art, which has appeared in TN Cooperator Magazine, Equine Images, and Voice of the TN Walking Horse.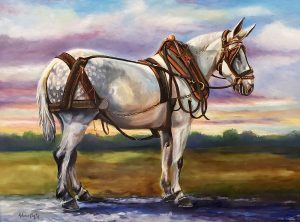 Exhibitions include the KY Derby Museum with the Equine Artist Association, the Western States Horse Expo in Sacramento, California, Central South Art Exhibition, Tennessee Art Educators Association Exhibit at Belmont University, TN National Walking Horse Celebration, Crayola Company Chicago, Ill. Carter's Limited Edition print, "Battles End" has been sold across the US and at Shiloh National Military Park and was in the collection of former governor of TN, Ned Ray McWorther. The TN River Museum also has many of her paintings to illustrate their exhibits and Savannah City Hall was gifted a large painting that was commissioned for McDonalds. Carter illustrated Patty Majors' book the "Puzzle Tin" which was based on the library at the old North Elementary. Becky's commissioned art include horses owned by CEO of Ritz Carlton Hotels, TN Technology Center, and many private family and home and dog portraits.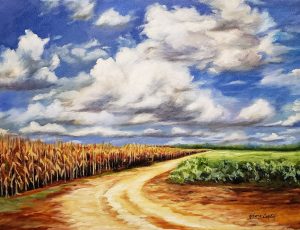 In 2007, Becky was selected by Shiloh Military Park to paint their ornament for the White House National Christmas tree. It was displayed on the top front of the tree in the blue room. The artists that had an ornament selected were invited to the White House for the Christmas party and viewing of all the decorations. Becky said "That was a thrill for me and my husband, a little ole country girl eating in the dinning room of the White House." Last year, the George W Bush Library in Dallas, Texas, notified her that her ornament would be on display there.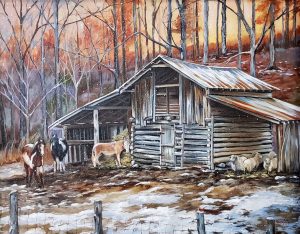 In 2016, she opened River Oaks Gallery in Saltillo. Her paintings and sculptures as well as local artisans wooden bowls and unusual handmade jewelry and gift items and home decor are for sale. Workshops and painting classes are also offered. She said that she has had folks from all across the country, even some traveling by river to stop in. Carter's love of the outdoors and animals inspire her choice of subjects that are painted with a love of color and design that touch an emotional chord with the viewers.
A man should hear a little music, read a little poetry, and see a fine picture every day of his life, in order that worldly cares may not obliterate the sense of the beautiful which God has implanted in the human soul.

– Johann Wolfgang von Goethe
---
Artist Statement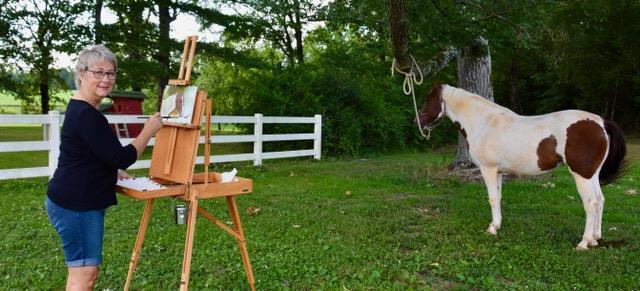 I'm calling this group of paintings a "View from my front porch". Just like you look out on the world from your porch and you invite someone into your home from the porch. They are based on my surroundings but not necessarily depictions of the real subject. I might catch a glimpse of colors, light or shapes that spark my interest and then I create from there. I want my art to touch an emotion for the viewer, as to where they use their imagination and escape from the world for a moment. It may be a look in a person or animal's eye or the atmosphere in a landscape. I can be all over the place in styles and mediums because of commission work. I like the precision of pen and ink and pencil drawings, the looseness and unpredictability of watercolor, the fun and quickness of acrylic and the richness and depth of oils.
---